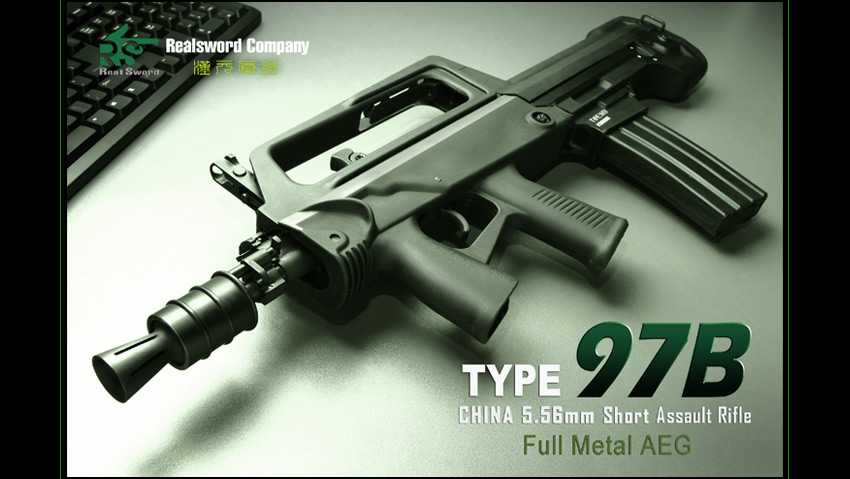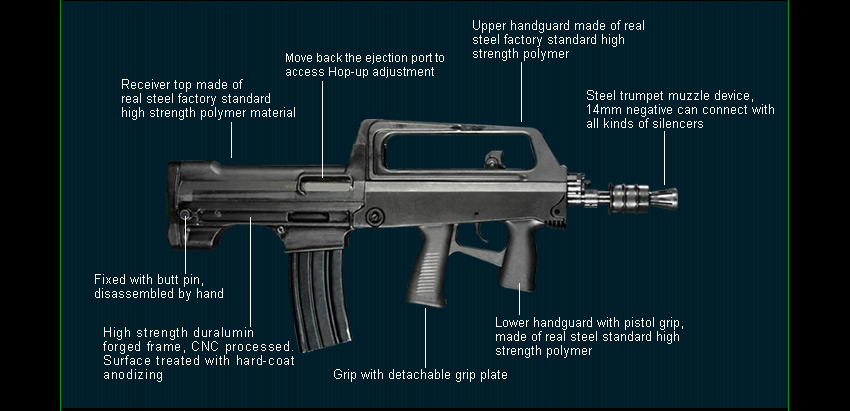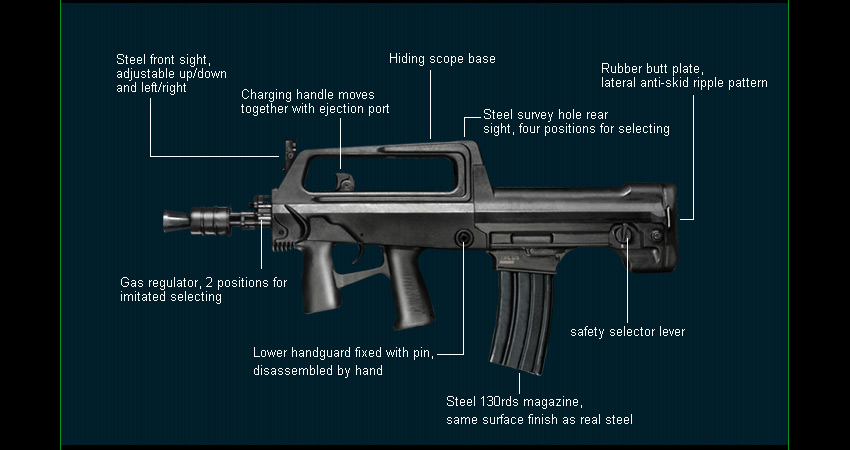 Remarkable trumpet muzzle device,
14mm negative, can connect with all kinds
of silencers.

Steel gas regulator can operate functionally. In real steel, figure "1" is small gas hole for using under normal condition. "2" is big gas hole for using under foul condition and the recoiling energy of bolt is not enough.


Details of steel front sight and axle of muzzle device mantle are perfectly presented.

The pistol grip is arc shape which is an ergonomic design to short assault rifle. Such design plus the thumb place above the grip makes holding gun very comfortable and firm.

High strength duralumin forged frame, CNC processed. Steel one piece
barrel and its components are processed with techniques same as real
steel. Those components are held in place by interference fit techniques
and pins.

Butt stock, same size as real steel, made of high strength polymer. Combination with metal body same as real steel.
Steel 130rds double-column BB magazine, surface processed same as real steel. Same external as NATO 5.56mmX45 magazine and compatible with most brands of M16 series BB gun magazines.


RS T1 7mm bearing metal gearbox is put into the frame. Type 97B is equipped with high speed motor which increases the shooting frequency and firepower.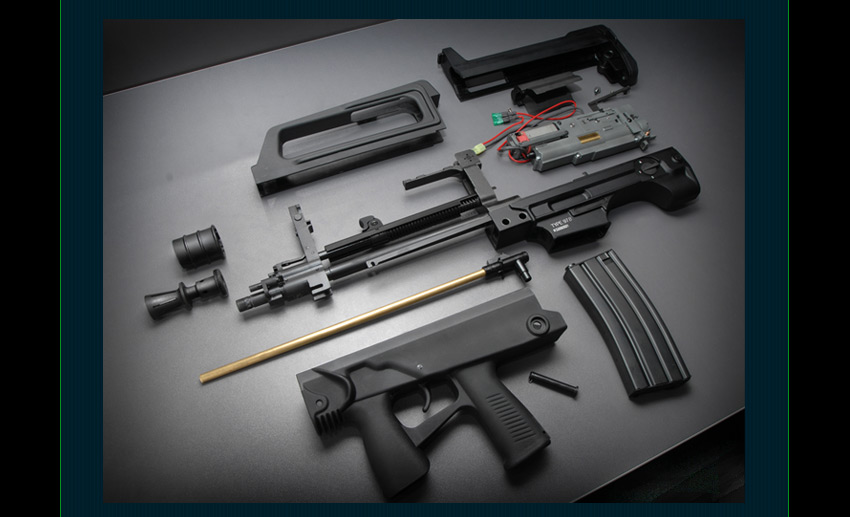 Type 97B short assault rifle, a member of the type 97 5.56mm gun family, inherits all the advantages of 97 gun family. Compact size, the overall length of 97B assault rifle is 620mm. Light weight, with unloaded magazine it only weighs 3.1kg. The smart gun can function as a sub machine gun with high performance.
It adopts the 5.56 mm bullet, such as SS109, M193 ammunition, and the effective range is 300 meters. Its power is nearly the same as rifle.
Type 97B is usually equipped to special operation forces, the armed helicopter operators, and guarders for important members of government. Due to this kind of reason, there is only little information about type 97B. As more about Chinese weapons were learned by people, type 97B attracts more and more people's eyes.
The most distinguishing feature of this gun is the muzzle device, with trumpet-shape flash hider in the front part and thick cylinder design in the back part. When firing, it can reduce the blaze and noise. The unique pistol grip make holding the gun very comfortable and can restrain the muzzle jumping.
Type 97B uses the same materials and techniques as type 97. The stock, grip, upper handguard are made of high strength polymer, and frame is forged with duralumin, CNC processed. Thus the overall weight is reduced. The hard-coat anodizing finish on surface enforces the rigidity, wearability and anticorrosion of frame, which makes it more nice and practical. Scope mount can use white light, glimmer and red dot sight, etc.
The magazine port of type 97B is straight and button type, which is compatible with US M16 and Belgium FNC assault rifle.





With the release of RS type 97, the type 97B, short assault rifle of type 97 family has its replica as well.
And now RS is unveiling the mystery of type 97B, and supplying players with another realistic AEG. As an important part of "RS 2007, the Year of China Airsoft", RS type 97B is the first AEG model of short assault rifle which shows the most advanced technology of Chinese small arms.
RS has studied the real steel thoroughly and took dimension of the real steel carefully. The RS 97B has perfectly reflected the developing concept of RS product as well. That is faithful to the original size, original techniques and original outlook design, truly experienced the battle feeling of type 97B short assault rifle in the game.
Same with other upcoming products from RS, all the components of RS type 97B which include their configuration, size and material are true display of the original ones. The external parts including the front sight, rear sight, upper and lower hand guard, frame, grip, metal body are identical to the real steel parts. And the disassembly and assembly are the same as well. All these details have shown our R&D principle---faithfulness to the original!
Same as real steel, the butt stock, upper and lower handguard of RS type 97B are all made of high strength polymer --- special nylon 66. This material is wearable, anti-erosion, low water absorption rate, light-weighted and very rigid. The receiver is forged with high strength duralumin, CNC processed. And its surface is treated with hard coat anodizing. Steel parts of RS 97B include one piece barrel, muzzle device, outer barrel, sight base, charging handle cover and scope base, of which surface finish is same as real steel. Also those steel parts are processed with anticorrosion same as real steel. Outer barrel and its components are held in place by interference fit techniques and pins, which make the short rifle more compact and rigid.
And now, when type 97B displays in front of you, the smart body is pretty attractive and you can't help to touch it by your hands immediately. Guns on the shoulder, you feel the AEG becomes part of you. Caring to every detail, RS has no regret about this type 97B, which was made into AEG for first time.
 •Exclusive licensed and brand new Chinese model AEG
 •Perfectly display the fascination of type 97B muzzle device
 •Steel one piece outer barrel, combination with parts same as real steel
 •Newly designed structure & imitating disassembly, challenge the utmost reliability of AEG
 •Frame made of real steel standard material, experience the charm of real steel
 •100% real steel frame size and surface finish same as real steel
 •Special high quality 7mm bearing T1 metal gearbox
 •Creatively reproduced the maintenance and disassembly function of original parts, make players feel like acting as
  a solider
 •Original marking with unique series number, enjoys the infinite dignity

Type 97B 5.56mm assault rifle
specification
RS type 97B 6mm assault rifle
specification
Name
  Type 97B 5.56mm assault rifle
 RS type 97B AEG
Overall length
  620mm
 620mm
Overall weight
  3.1kg
 3kg
Caliber
  5.56mmSS109,M193
 6mmBB bullets
Velocity
  830m/s'
 89m/s'
Sight
  Mechanical sight and optical sight
 Mechanical sight and optical sight
Cartridge
  30rds magazine

 130rds,300rds magazine